Have you ever had one of those days that just seemed to drag on and on. I swear it should be like 7pm and it's only just after 2pm. Joshua and I have just bummed out today in the house. It looks gorgeous out side but it is chilly. So we decided to stay in and play. We have been rocking out to Green Day playing with playdoh, we colored, watched TV. I have had enough of cartoons. I'm not a huge cartoon fan. Josh has spent most of the day pretending to be the incredible hulk (hence the green again). STOMPING around and making his voice sound very deep! Letting me know all about the movie. He is soooo funny at times. He has a HUGE imagination and doesn't FORGET a thing! While watching TV it dawned on me that I hadn't taken my POD (photo of the day) for the challenge going on at Scrappin Trends so what better subject then my child watching TV.
Now Joshua still has his blankie. As you can see. He takes it every where with him that we will allow him to. Now his blankie isn't the ordinary blankie he has a full size GREEN blankie he lugs with him. This is his 4th blankie I believe. The last one was awful. It was like he was carrying around a huge skein of yarn that had seen it's better days. Anyway adding to the Green day I decided to take my POD to the next level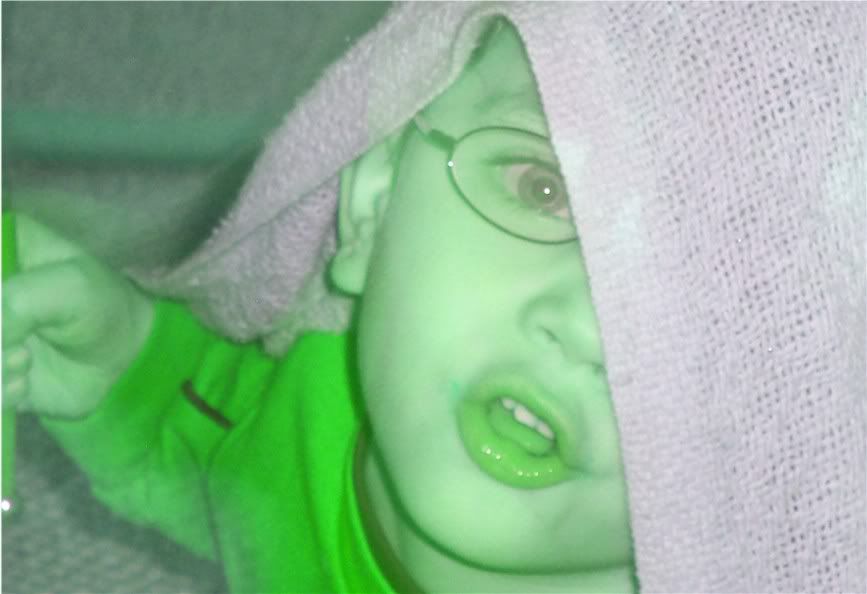 and well as you can see I made my own Incredible JOSH. LOL So you tell me... Which picture do you like? I think I added more fuel to the imagination of my 4 year old! I wonder what color he will want to be next?